Roda win a source of confidence ahead of Ajax, says Van Bronckhorst
Giovanni van Bronckhorst took his seat for Friday afternoon's weekly press conference at De Kuip with a smile on his face. One reason for that was the head coach's 41st birthday, for which he received the congratulations of various journalists. But another reason for Van Bronckhorst's good mood was Wednesday's cup win against Roda JC. 'That match has given us confidence ahead of Sunday's fixture against Ajax,' said Van Bronckhorst.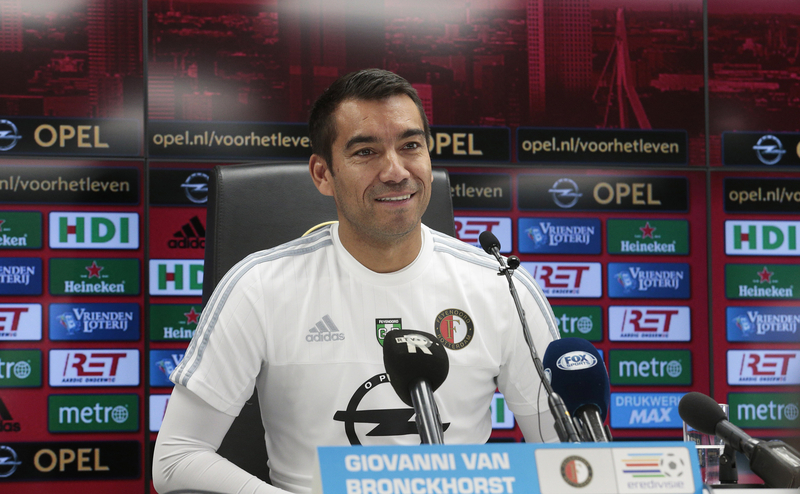 "Feyenoord versus Ajax is always a game in which two teams battle for the win. Sunday will be no different"
In Limburg the coach set his team up to play in a 5-3-2 formation. 'That system got us the victory on Wednesday. The team implemented it very well tactically, I'm satisfied with that. Plus, against Roda I saw players fighting alongside each other and making each other stronger. And they were a real team. That gives us something to build on in the coming matches.' When asked whether he would stick to the same system against Ajax Van Brockhorst was not prepared to confirm or deny. 'That will become clear on Sunday,' said the head coach.

On Sunday Feyenoord face Ajax for the third team this season. The Rottterdammers won the cup tie between the clubs 1-0, while the Eredivisie fixture at De Kuip ended 1-1. 'It could have gone either way in those matches and I saw that the differences between the two sides are not so great,' said Van Bronckhorst. 'We are coming out of a tough run, whereas Ajax have dropped four points in the last two matches. But it has no bearing. Feyenoord versus Ajax is always a game in which two teams battle for the win. Sunday will be no different. No matter how the two teams are doing, this is always a great fixture.'

Van Bronckhorst feels that Feyenoord still have a lot to play for this season despite the run of disappointing results in the Eredivisie. 'We are still in the cup, where we have been lucky enough to be drawn at home and now have to win two more matches. We are also going for third place, because that also qualifies you for European football. That's another reason why victory on Sunday would be very welcome.'

New signing Renato Tapia is available for selection for the first time against Ajax. Otherwise Van Bronckhorst can choose from the same squad of players that secured a berth in the semi-final of the KNVB cup in midweek.