We know what we have to do, says Koeman
The results in the next two matches will go a long way to deciding what Feyenoord are capable of in the Eredivisie this season. Ronald Koeman's side, currently third in the table, travel to second-placed FC Twente on Sunday before entertaining league-leaders Ajax at de Kuip a week later. 'If we really want to achieve something we have to take at least four points from those matches,' said the Feyenoord coach on Friday.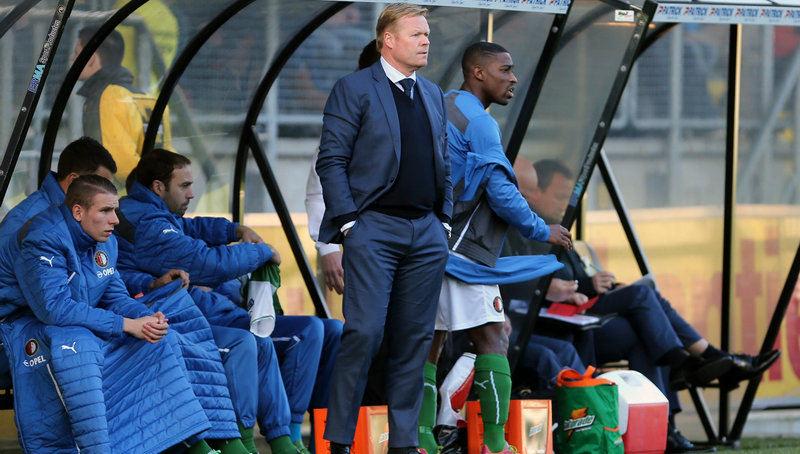 "If we really want to achieve something we have to take at least four points from those two matches"
A win at FC Twente's De Grolsche Veste stadium will put Feyenoord level on points with coach Michel Jansen's Enschede outfit, but Koeman was unwilling to go so far as to call it a crucial encounter. 'It seems to me there a trend towards labelling every match crucial,' he suggested with a smile. 'At this stage of the season virtually every club has a lot to play for. In our case, we are aiming to finish as high as we can. As such, we know what we have to do.'

The same goes for Sunday's hosts FC Twente, of course, who are just four points behind defending champions Ajax and so still firmly in the hunt for the title. 'They work well as a team and like us they have a set way of playing. In that regard Sunday could be an attractive match.' Koeman certainly feels FC Twente are a serious title candidate. 'In Dusan Tadic they perhaps have the best player in the Eredivisie. If you have such resources you have to aim for the very top.'

If his side are to give themselves a chance they will have to take their chances, Koeman feels. 'There have been a lot of matches this season when we were clearly the better side based on territory and possession and also based on chances, but very often that was not expressed in the result. That's our biggest problem, because that gives the opposition a sense that they can get something out of the game. If we want to achieve more, we will have to do that better.'

In Enschede, Koeman will be without Bruno Martins Indi, who sits out the last match of his suspension. Ruud Vormer, who returned to action for the Feyenoord/Excelsior development team last Monday, will play no part either, but the squad is otherwise complete.