Rutten expects professional attitude in Kyiv
Fred Rutten says he's been working hard in recent weeks to get a good idea of Thursday evening's Uefa Cup play-off opponents Zorya Luhansk. The head coach was speaking at a press conference in the team hotel in Kyiv a little over 24 hours before kick-off, where he shared the podium with Joris Mathijsen. Among other things, Rutten told the attending Ukrainian and Dutch journalists what his side could expect at the Valeriy Lobanovskyi Dynamo Stadium in Ukraine's capital. 'Zorya is a tough, physically strong team that is hard to score goals against. They are excellent at flicking the switch when they get the ball, which means they are dangerous on the counter attack.'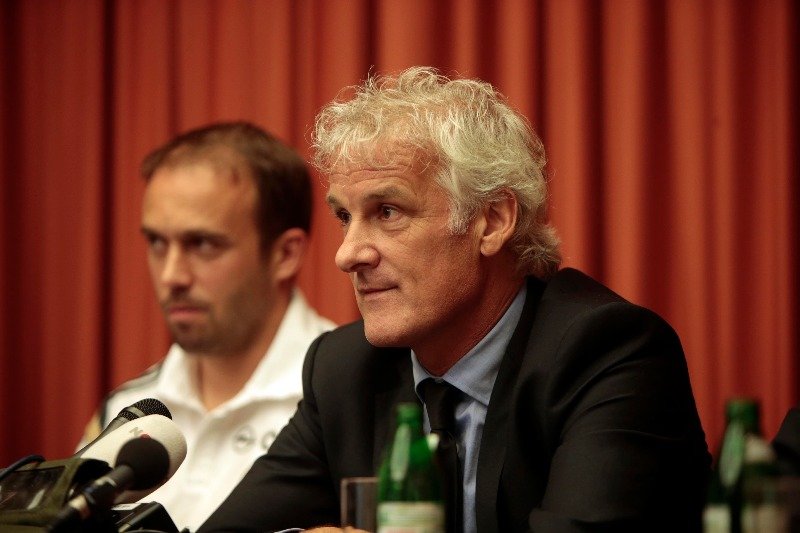 Feyenoord's technical staff have not had the chance to travel to a Zorya game since the Luhansk outfit were drawn against the Rotterdammers but Rutten does not see this as a disadvantage. 'We've seen enough footage of matches to pick out what we feel are important details. We know exactly how they play and we know all about their stronger individuals. Are we favourites? If you compare the teams, a lot of people would say yes. Then again, our results in Europe in recent years have not been so good that we can just say that.'

During the press conference the head coach said that he was aware that the attendance is expected to be low in Kyiv, in part because Zorya Luhansk is playing so far from home. 'The atmosphere will be different from what we're used to in the Netherlands and especially De Kuip,' nodded Rutten. 'We should be capable of dealing with these circumstances and the players and staff are sufficiently professional for that too.'

Mathijsen agreed with his coach. 'It's up to us to concentrate fully on the match. We know we have to work tomorrow and we're ready.'

Bearing in mind the worrying events in parts of Ukraine at the moment, Rutten said he was happy that the Dutch foreign minister had visited De Kuip on Monday to give a rundown of the situation in the country. 'People were fairly uneasy when it was announced we would be playing this team, so it was good to have the minister visit. His briefing reassured us completely. So we're certainly not afraid to play here.'

Rutten ended with good news about Jordy Clasie. The captain is available for selection in Kyiv after missing last Friday's league match against sc Heerenveen due to his hamstring.