Pellè: 'Practice match important in various ways'
With Friday's first training session of the new year out of the way, Ronald Koeman and Graziano Pellè turned their focus to Sunday's friendly against Excelsior. They were joined by head coach Marinus Dijkhuizen and captain Sander Fischer of their city allies at a special joint press conference ahead of the benefit match between the two to kick off the centenary year of the Daniel den Hoed Foundation. 'That's why this match is important in various ways,' Pellè stressed. Like Fiescher, the striker was wearing the exclusive shirt bearing the Daniel den Hoed logo, which the two sides will play in on Sunday.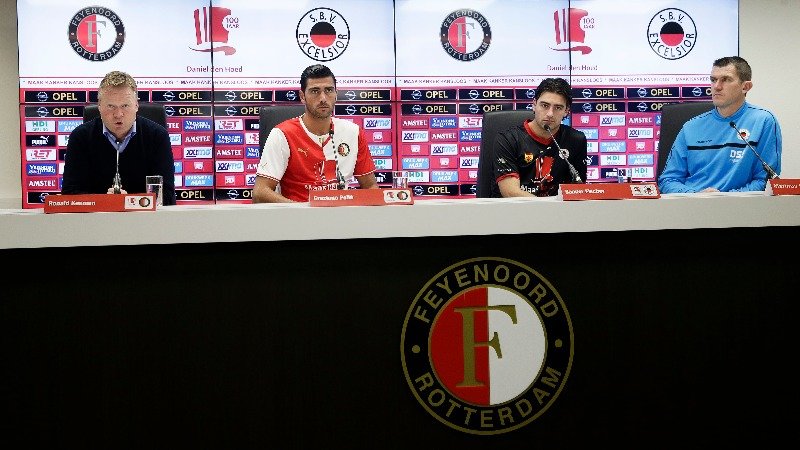 "Hopefully this match will contribute to a real solution being found for cancer"
The Daniel den Hoed Foundation is capitalising on its centenary to put cancer research into the spotlight during 2014. The year could scarcely get off to a better start than the Rotterdam derby, with all proceeds going to the foundation. 'It also gives an extra dimension to this match,' Koeman added. 'Many people and children are confronted with this serious disease, which unfortunately is part of life. Hopefully this match will contribute to a real solution being found for cancer.'

That sentiment was echoed by Dijkhuizen, who was in charge of training for the first time on Friday since taking over as head coach of Excelsior after Jon Dahl Tomasson's departure to Roda JC Kerkrade. 'The two sides are giving off the right signal by contributing to the fight against cancer like this,' said Dijkhuizen. Captain Fischer expressed the hope that the match would attract a full house. 'That would mean more money being raised for cancer research. And for us it's a great experience to play in a full De Kuip and to pit ourselves against a club like Feyenoord.'

Koeman ended by announcing that his squad had returned from holiday fit and ready to lay the groundwork for the second half of the league season. 'We want to continue where we left off in the final week's before the winter break. We want to start the new year as well as we can, so we're taking Sunday's match seriously. At the Marbella training camp we'll then be able to calmly work towards the resumption of the season, which is crucial for us with two away games in the league and the cup tie against Ajax.'

Ruud Vormer will miss Sunday's match. The midfielder tore his groin in the last game against PEC Zwolle and will not travel to Marbella, Koeman explained.