Feyenoord looking to get back to business against FC Twente
There's been no relaxed build-up to Sunday's home Eredivisie match against FC Twente this week. The aftermath of the Paris attacks and the subsequent terror threat in Hannover, where Oranje were due to take on Der Mannschaft saw to that. 'It's only to be expected that such events are going to have a big impact,' head coach Giovanni van Bronckhorst acknowledged on Friday.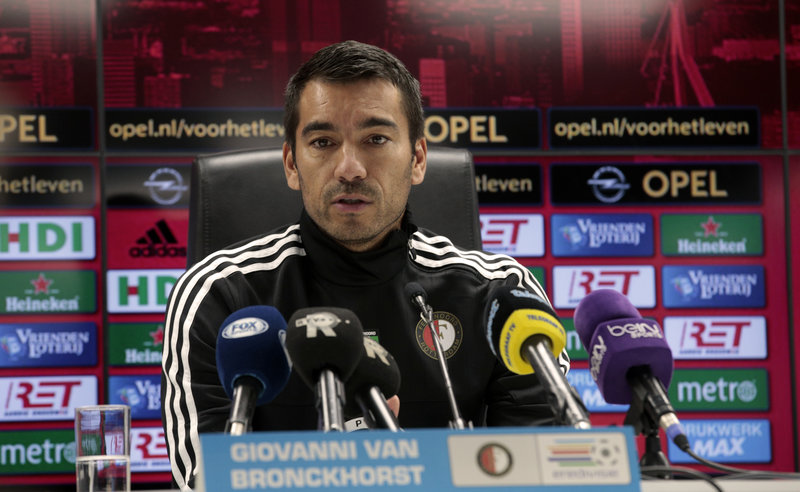 "It's only to be expected that such events are going to have a big impact"
Van Bronckhorst was actually in London when the attacks were launched in the French capital last Friday. 'I like being in Paris and have a lot of happy personal and sporting memories from the city. When you hear what happened there, see the images and realise the suffering the people there have experienced it affects you.'
Four days after the attacks the international friendly between Germany and the Netherlands was called off at the last moment due to a security alert in host city Hannover. Terence Kongolo and Marko Vejinovic were both in the Dutch squad for the squad, while Arno Philips and David van Maurik were on the support staff. 'That brought the events even closer to home for them,' said Van Bronckhorst. 'It's on everyone's mind, but on the other hand there's a match we have to focus on.'
Sunday's opponents FC Twente are experiencing tough times and currently occupy fifteenth place in the Eredivisie. Van Bronckhorst remains wary of the Enschede outfit, not least captain Hakim Ziyech. 'His stats are very decent,' admitted the coach, referring to the attacking midfielder's seven goals and four assists this term. 'We have to make sure he is not able to make a difference on Sunday.'
Van Bronckhorst feels his own squad looks to be in good shape, after Friday training. Five players were forced to pull out of their national squads (Kenneth Vermeer, Rick Karsdorp, Bart Nieuwkoop, Karim El Ahmadi and Simon Gustafson), while two returned early (Eljero Elia and Sven van Beek) and only Elia did not complete a full session. The striker's availability on Sunday is therefore still in doubt.