Koeman confident of positive response
With Vitesse due at De Kuip for the 21st matchday in the '13/'14 Eredivisie season on Friday night, there's been little time this week for Feyenoord to pick over the bones of last weekend's costly defeat in The Hague. But actions speak louder than words and victory against the Arnhem outfit would go a long way to flushing the bad vibes out of the system, an opinion shared by Ronald Koeman. 'We've proven we can respond well after a setback,' said the coach on Thursday.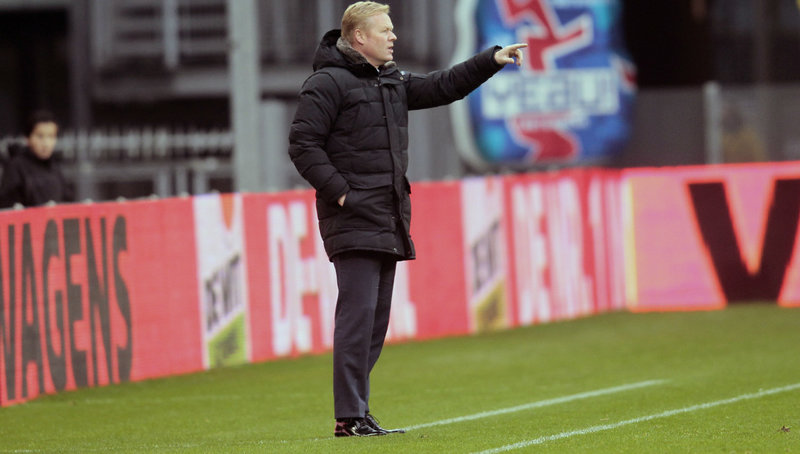 "We've proven we can respond well after a setback"
That said, Koeman did admit that his team have had plenty of practice at bouncing back this term. 'Unfortunately, on a number of occasions we've not managed to keep a run going. The drop-off is always too steep, in terms of performance or result. We're working as hard as we can to change that, but we haven't been able to prevent it up till now.'

The head coach does not feel his team played too badly against ADO Den Haag, but he says he did observe a lack of sharpness at key moments. 'ADO's second goal is one example. We had seven defenders against the opposition's four forwards and they were still able to head it in, in time added on at the end of the first half no less. That's unacceptable. On the other hand, we've conceded five goals in the matches against ADO and FC Utrecht, but otherwise we gave away hardly any chances, if any.'

There's certainly a lot to play for at De Kuip on Friday night, something Koeman is only too aware of. 'More than for us, for Vitesse it's a match in the fight for the title,' admitted the coach in response to a specific question. 'If we win we'll close the gap and we'll have more of a target. With great pleasure, I've tried to convey that drive and focus this past week and from what I've seen the team has responded well. Up till now that's always been the case and I'm not concerned that Friday will be any different. I have so much confidence in this team.'

Koeman will have to do without Joris Mathijsen and Ruud Vormer against the second-placed visitors. Mathijsen came out of the ADO match with an eye-bleed, while Vormer continues to work his way back to fitness after a groin injury. One player who is likely to return is Tonny Vilhena, who is available after serving out a suspension.