Feyenoord in cup final after Willem II win
Feyenoord reached the TOTO KNVB Cup final for the seventeenth time in the club's history on Wednesday night. Willem II were outclassed in the semi-final at De Kuip, with goals from Steven Berghuis, Robin van Persie and Tonny Vilhena giving Feyenoord a 3-0 win.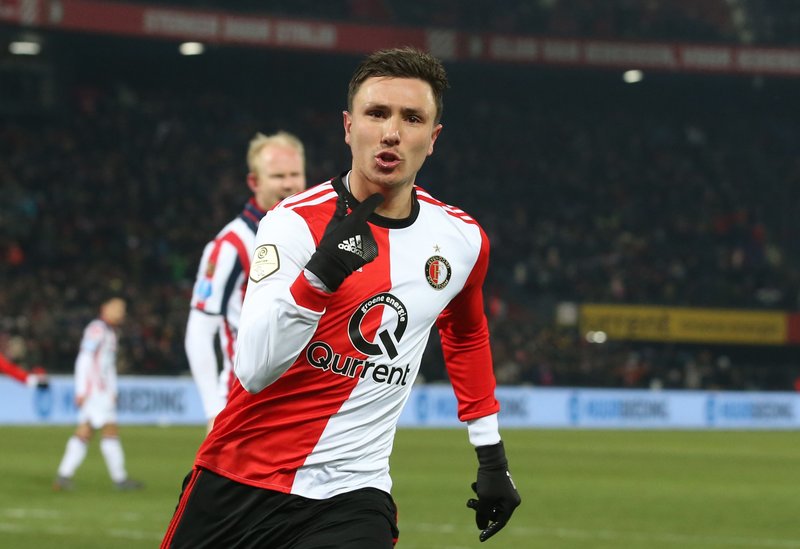 Initiative
The hosts immediately grabbed the initiative. With Kevin Diks, Sven van Beek, Ridgeciano Haps, Robin van Persie and Jean-Paul Boëtius in the starting line-up, head coach's Giovanni van Bronckhorst began brightly. Haps shot just wide, while El Ahmadi had an effort saved by Willem II goalkeeper Mattijs Branderhorst.

That early energy was rewarded on 21 minutes. Haps made ground down the left, playing the ball across the floor towards Nicolai Jørgensen. The Dane let it run to Steven Berghuis, who pulled the trigger. Branderhorst got his fingertips to it, but was unable to prevent it going in.

Flurry of chances after break
Feyenoord created a few openings before the break, for Boëtius and Van Persie among others, but the hosts really started to ratchet up the pressure in the second half. With the temperature down around freezing point, the packed De Kuip crowd were warmed up with a flurry of chances. On 52 minutes Van Persie was inches away from connecting with a Berghuis cross to score.

Berghuis was next to try his luck a few minutes later, but with the second goal remaining elusive a Willem II equaliser remained a threat. Elmo Lieftink went closest for the visitors from a long-distance drive on the hour, but Brad Jones pushed it wide.

Van Persie doubles lead
The next corner produced Feyenoord's second goal. Boëtius came into possession on the right after the ball came out of the box. He played it out to Haps on the other wing. Haps ran strongly before laying it off to Van Persie, who smashed it in for his 300th career goal.

Feyenoord were not troubled in the final half hour. The hosts even extended their lead on 85 minutes. Tonny Vilhena made space for himself in the box with some fancy footwork and shot off the inside of the post to make it 3-0.

Final number 17
The win secured Feyenoord a place in the TOTO KNVB Cup final for the seventeenth time in the club's history. AZ will be the opponents at De Kuip on Sunday 22 April after beating FC Twente 4-0 in the other semi-final.
Feyenoord - Willem II
3-0
Officials
Assistent referee:
Johan Balder
Assistent referee:
Jan de Vries
Fourth official:
Christiaan Bax
Field line up
17
Kevin Diks

`75
6
Jan-Arie van der Heijden
8
Karim El Ahmadi

`61
32
Robin van Persie

`81

`60
10
Tonny Trindade de Vilhena

`84
19
Steven Berghuis

`21
5
Jop van der Linden

`41
10
Thom Haye

`46
6
Pedro Chirivella Burgos
19
Mo El Hankouri

`73
Bench line up
28
Jens Toornstra

`81
2
Bart Nieuwkoop

`75
20
Renato Tapia

`61
15
Giliano Wijnaldum

`41
8
Bartholomew Ogbeche

`46
38
Ismail Azzaoui

`73
51
Kristófer Ingi Kristinsson
Powered by Ortec