Van Bronckhorst: 'Happy to get started'
After six weeks' preseason, Feyenoord are all set for the first Eredivisie match of the season. While the results of the last three friendlies have been disappointing, Giovanni van Bronckhorst is convinced that this side is ready to face the challenge of FC Utrecht at De Kuip on Saturday. 'From now on it's about the points, which brings another type of pressure. I myself am just happy that we can get started and I feel the players are ready,' said the coach during the regular Friday press conference at De Kuip.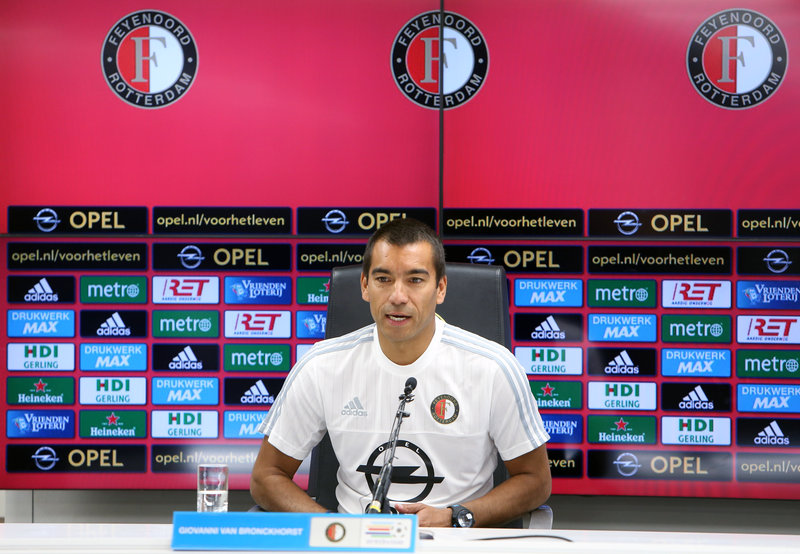 Van Bronckhorst has just completed his first preseason as head coach, and he's happy with how it's gone. 'A lot of it was new for me. For instance, I notice the players look at me differently now I'm the head coach, which is only logical actually. The most important thing is that we have made use of the past weeks to grow towards each other and become stronger as a team, although that was not always reflected in the results of the friendly matches. At the end of the day it's about being ready on Saturday.'
With the first league fixture coming up against FC Utrecht Van Bronckhorst is pleased to have a lot of options. His squad includes five new signings and a clutch of youth graduates and players returning from loan spells elsewhere. 'It's nice for a coach to have his squad almost complete at such an early stage. It means we can work towards the group we will ultimately see the season through which. I feel that's ideal.'
The arrival of Eljero Elia and the expected addition of Michiel Kramer give Van Bronckhorst a good selection of strikers to choose from. 'That competition is only good. It means that players will have to work hard every training session and every match, which is a situation we really want to create at Feyenoord,' says Van Bronckhorst, who expects a lot from Elia, a Dutch international with 28 caps to his name. 'With his qualities and experience he can be very important for Feyenoord.'
Van Bronckhorst did say, however, that Elia would not be in Saturday's match-day squad. The same goes for Lex Immers, who has failed to recover from an ankle injury picked up in training this week. Defender Jan-Arie van der Heijden, on the other hand, is in line to make his official debut for the club after being named in the match-day squad.
Feyenoord will start the season in front of a sell-out crowd at De Kuip. The match kicks off at 20.45 CET.